Giving Opportunity
UNICEF Global COVID-19 vaccines campaign - US
Support UNICEF's global efforts to help deliver COVID-19 vaccines to the most vulnerable
About this Giving Opportunity
Ending the pandemic is a race against the clock. No one is safe until everyone is safe.
Responding to one of the biggest needs linked to the COVID-19 pandemic, which is equitable access to vaccines is, we believe, the right thing to do.
Z Zurich Foundation is supporting UNICEF's efforts to help deliver COVID-19 vaccines to 92 low- and middle-income countries for the COVAX Facility. The Foundation is making an initial donation of CHF 1 million to UNICEF in support of the campaign to deliver 2 billion doses of COVID-19 vaccines globally by the end of 2021. This is the first step to help provide some of the most vulnerable with equal access to COVID-19 vaccines.
Please join us in supporting this effort. For every dollar donated, ZZF will match 100%.
About the COVAX Facility
COVAX is the vaccines pillar of the Access to COVID-19 Tools (ACT) Accelerator, a ground-breaking global collaboration to accelerate the development, production, and equitable access to COVID-19 tests, treatments, and vaccines. COVAX is co-led by Gavi, the Coalition for Epidemic Preparedness Innovations (CEPI) and WHO. Its aim is to accelerate the development and manufacture of COVID-19 vaccines, and to guarantee fair and equitable access for every country in the world. https://www.who.int/initiatives/act-accelerator/covax UNICEF, in collaboration with the PAHO Revolving Fund, is leading efforts to procure and supply doses of COVID-19 vaccines on behalf of the COVAX Facility. 
About UNICEF
UNICEF is the world's largest children's organization, working in some of the world's toughest places, to reach the world's most disadvantaged children. Across 190 countries and territories, we work for every child, everywhere, to build a better world for everyone.
For more information about UNICEF and its work for children, visit www.unicef.org Follow UNICEF on Twitter, Facebook, Instagram and YouTube.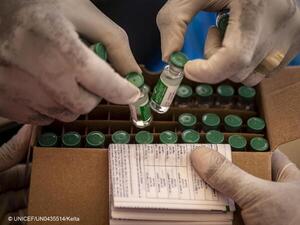 Causes in this Giving Opportunity

New York, New York, 10038-4912, United States
How Donations Work
Click any 'Donate Now' button and then decide your donation amount. You will then be forwarded to your payment processor of choice. Once your donation has been processed it will be sent to your charity of choice.
Need Some Help?